Description
𝘚𝘯𝘢𝘵𝘤𝘩𝘦𝘥 𝗪𝗮𝗶𝘀𝘁 𝗧𝗿𝗮𝗶𝗻𝗲𝗿
Do you want that  '𝘚𝘯𝘢𝘵𝘤𝘩𝘦𝘥 '  waist?  Purchase one of our Quality  𝗪𝗮𝗶𝘀𝘁 𝗧𝗿𝗮𝗶𝗻𝗲𝗿s to help you achieve your goals! Our 𝘚𝘯𝘢𝘵𝘤𝘩𝘦𝘥 𝗪𝗮𝗶𝘀𝘁 𝗧𝗿𝗮𝗶𝗻𝗲𝗿  features great sweat active Technology and increased Target Compression to help you sweat, burn fat and sculpt your core. Maximize your next workout session! Waist Trainers are 100% Latex and built to last!
Instructions: For new waist trainee's create a goal to wear your waist trainer for two hours per day and gradually increase. In addition, wear during workouts to maximize your exercises.
Benefits: Helps reduce the feeling to eat heavy meals.  Helps create a more contoured figure. Increases sweat in core area. Helps reduce "the bloated look". Supports back structure.
WAIST TRAINER SIZE GUIDE
The Perfect fit for the perfect curves. An important step to ordering any shapewear is identifying the size that will fit your body type best. Don't make the mistake of ordering a size that's too small because you think you might look slimmer. The opposite is actually true—if it's too tight, it will be extremely uncomfortable—and unflattering. Follow our undergarments below:
HOW TO MEASURE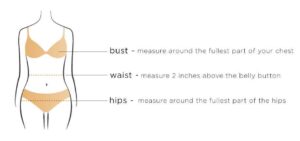 WAIST TRAINER SIZING
You may be thinking  to order a smaller size to make your waist as tiny as possible, However Waist Trainers are already designed to make your waist  small thus follow the sizing carefully, in addition  waist trainers already tend to run small.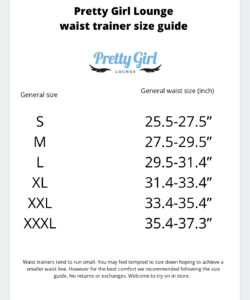 𝐕𝐢𝐬𝐢𝐛𝐥𝐲 𝐫𝐞𝐝𝐮𝐜𝐞𝐬 𝐧𝐚𝐭𝐮𝐫𝐚𝐥 𝐰𝐚𝐢𝐬𝐭𝐥𝐢𝐧𝐞 𝐨𝐟 𝟏-𝟒 𝐢𝐧𝐜𝐡𝐞𝐬